Trying to maintain business-critical services while working from home comes with plenty of challenges, but telecommuting isn't new for everyone: the Office of Financial Affairs at University of Texas, San Antonio, has been doing it since 2018. As one of the very first finance teams in higher ed to move their processes permanently off campus, they've learned a lot about what it takes to operate as a team when everyone is working from home.
We sat down with Sheri Hardison, AVP for Financial Affairs and University Controller at UTSA, to talk about the benefits and challenges of operating a fully remote finance department - and what her advice is for teams who are just now making that change.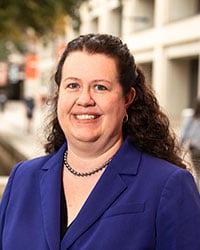 PaymentWorks: We want to hear a little bit about what coronavirus changes were like for your team. You were already set up to be remote. Was there any interruption at all when this happened?
Sheri: More than 100 people in business affairs were already full-time telecommuting. We began telecommuting in late 2018, mainly just to release space on campus, and we did it pretty quickly, over a period of a couple months. We thought that was quick, but obviously that was nothing compared to doing it in a few days. So really all of our normal processing - by that I mean payables processing, or payroll, or accounting - was fully remote already. One thing that wasn't was check printing. We tried to minimize the number of print checks that we cut, but ultimately as long as there are still checks to be cut, someone still has had to go to campus to do it.
Have you changed your payment terms for checks? Are checks taking longer than normal?
I wouldn't say they take longer. Before telecommuting, we cut checks daily, then three times a week, and now we're down to two times a week. We would do less if we could; we're constantly pushing to get more people on ACH.
For a lot of PaymentWorks customers, one of the value propositions for them was getting as many people on ACH as possible, but they weren't necessarily in a hurry. Now all of a sudden because of COVID 19, the atmosphere seems to have changed; people don't want to have to send checks. Do you think there will be some sort of sea change right now that pushes more higher ed organizations to get their vendors payees on ACH?
I don't know if higher ed will drive that, but I think in general all kinds of business will be more open to that now that they've had to operate in that mode. I'm hoping that checks go away. We don't want to keep cutting checks because of the extra time and cost in postage and supplies.
Have other peer institutions reached out to you for advice?
People who went to the TASSCUBO presentation we did in January have reached out to us, even in the past couple weeks people are asking for some of our materials. We were also going to present at SACUBO in San Antonio and then at NACUBO in DC this summer. We were excited, because we think this could work for a lot more of higher ed.
Do you feel that industries -this is not specific to higher ed- who have long resisted the idea of telecommuting are now coming around to realizing that this is actually working?
We hope so. We hope that even on our own campus. It was only about hundred people that left, and now that we've sent almost all of campus home, we hope more areas will consider it as an option. Our employees seem to really like it; and are more engaged. Most people say they're more productive at home. The other piece, too, is that our turnover has dropped dramatically. Of 110 positions, there is only one vacancy.
Were you expecting that as a result of the move off campus?
No. We had hoped for decreased turnover or that new people being interviewed would find it to be an incentive. There are offices who have hired somebody who was out of town, which would not have been an option without telecommuting.
Out-of-town hires? So, another benefit could be a larger candidate pool.
Yes, it's definitely a larger candidate pool.
In terms of managing such a large team, what was the biggest challenge for you working remotely versus on campus?
I'd say just staying connected with everybody. You have to be more deliberate about seeing people and I think you have to set policies on that up front. In my office, everyone is still required to come to campus a couple of times a month until COVID-19 hit. The other thing that we do, when we're having meetings, is that we require cameras, so we can see how people are doing. That's engagement that we encourage.
What was the biggest benefit for you as a manager in this? Was it the fact that you have sticky staff?
Yes. The fact that the staff is happy is a big advantage. They're happier, and there's definitely decreased turnover.
We have two campuses. The current situation opens up more opportunities for people on the smaller campus to not have to come to main campus because now everybody's used to using remote conferencing tools. Even though almost all of our processes were already paperless, this is pushing us to go almost 100% paperless. We're foreseeing that people will realize that you don't really need a printer anymore, maybe you also don't need as many multifunctional devices around the office. Those costs should reduce.
I know you were slated to present this July at NACUBO. Pretend you're doing your presentation. What's your pitch to your peers to consider permanently adopting remote working for their teams?
What we have learned from this is that it opens up space on campus, it reduces the employees' personal commuting costs. They're more engaged. There's decreased turnover, and you can still provide the same level of service. There's really not a reason to not at least think about it.